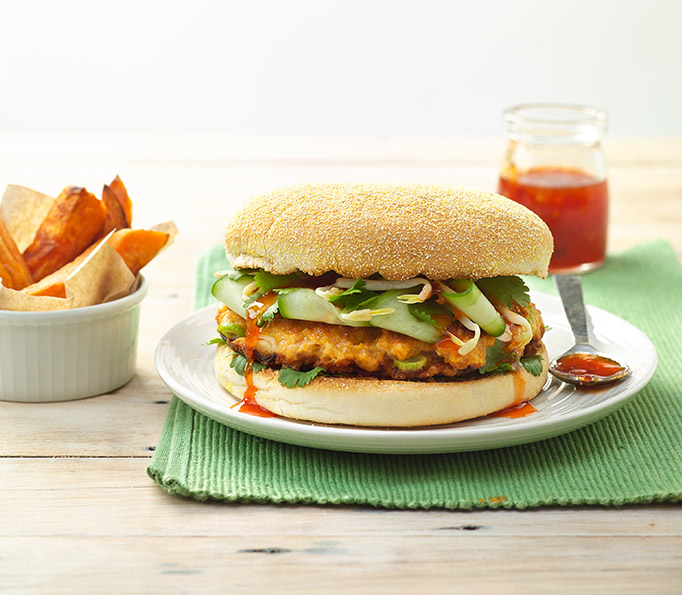 Thai Fish Burger with Kumera chips
Ingredients
500g white fish fillets
3 teaspoons Thai red curry paste
2 tablespoons coconut cream
1 teaspoon brown sugar
1 egg, lightly whisked
1 tablespoon fish sauce
1 tablespoon cornflour
4 spring onions, finely sliced
½ telegraph cucumber peeled into long strips
¼ cup coriander leaves
½ cup mung bean sprouts
Tip Top Deluxe Burger Buns
sweet chilli sauce to serve
Method
Place the fish into the bowl of a food processor along with the curry paste, coconut cream, sugar, egg and fish sauce. Pulse until the fish is almost a paste and the ingredients well mixed.
Add the cornflour and spring onions and pulse briefly to mix. With lightly floured hands, form the mixture into 4 patties. Refrigerate for 30 minutes or longer if possible.
Heat a film of oil in a frying pan and cook the patties until golden and cooked through. Toast the Tip Top Deluxe Burger Buns until golden.
Place a fish patty on each base, top with cucumber and then coriander and sprouts. Drizzle with sweet chilli sauce and then top with a Tip Top Deluxe Burger Bun lid and serve.
Serves 4.