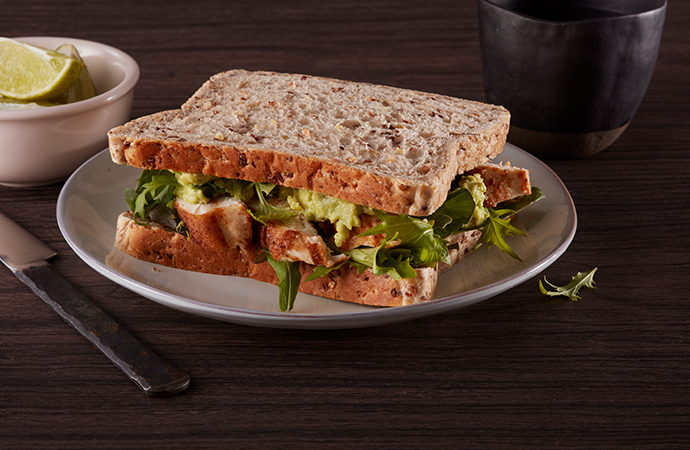 Mexican Chicken, Refried bean and Avocado Sandwich
Ingredients
1 chicken breast, skinless and boneless
2 teaspoons burrito seasoning mix
2 tablespoons oil
4 slices Goodness Grains 9 Grain and Seed bread
½ cup refried beans, heated
handful mesclun salad leaves
½ cup guacamole
2 tablespoons tomato salsa
small handful coriander leaves
Method
Sprinkle the chicken with the burrito seasoning mix.
Heat the oil in a small frying pan and cook the chicken on both sides until well coloured and cooked through – 10-15 minutes.
Allow the chicken to rest for 5 minutes before slicing into 1cm wide strips.
Spread the bread with the refried beans.
Arrange salad leaves over the beans.
Arrange the chicken over two of the bread slices and then add dollops of guacamole.
Lastly sprinkle with coriander leaves.
Cover with the remaining bread slices.
Serves 2.