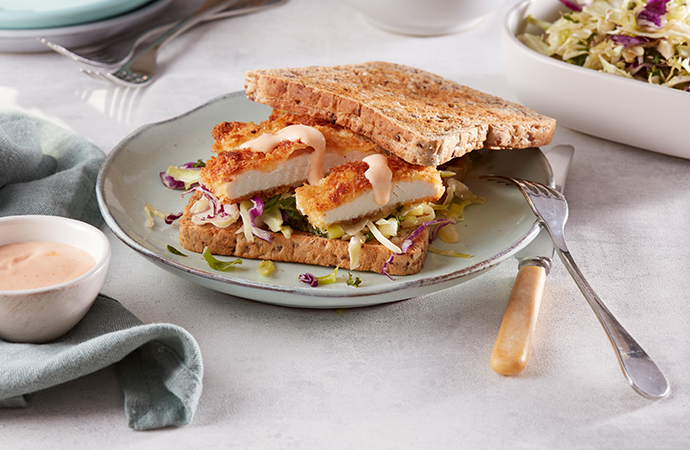 Grilled Chicken Schnitzel & Slaw on Toast
Ingredients
1 chicken breast, skinless and boneless
1/4 cup flour
1 egg
1 cup panko crumbs
2 tablespoons olive oil
4 slices Goodness Grains 9 Grain and Seed bread
large handful coleslaw
1 tablespoon sriracha mayonnaise
Method
Slice the chicken breast in half horizontally.
Place the flour, egg and panko crumbs in separate shallow bowls, season the flour with salt and pepper and whisk the egg.
Dust the chicken with flour then dip in egg and lastly coat with the panko crumbs, pressing to get a good layer.
Heat the oil in a large frying pan over a medium heat and cook the schnitzel for 10-15 minutes until golden on both sides and cooked through. Remove the chicken from the pan and sit on paper towels.
Toast the bread slices.
Place two of the toast slices on plates. Cover with slaw and then with chicken.
Dollop with the sriracha mayonnaise and cover with remaining toast slice.
Serve at once.
Serves 2.